COVID Vaccine Resources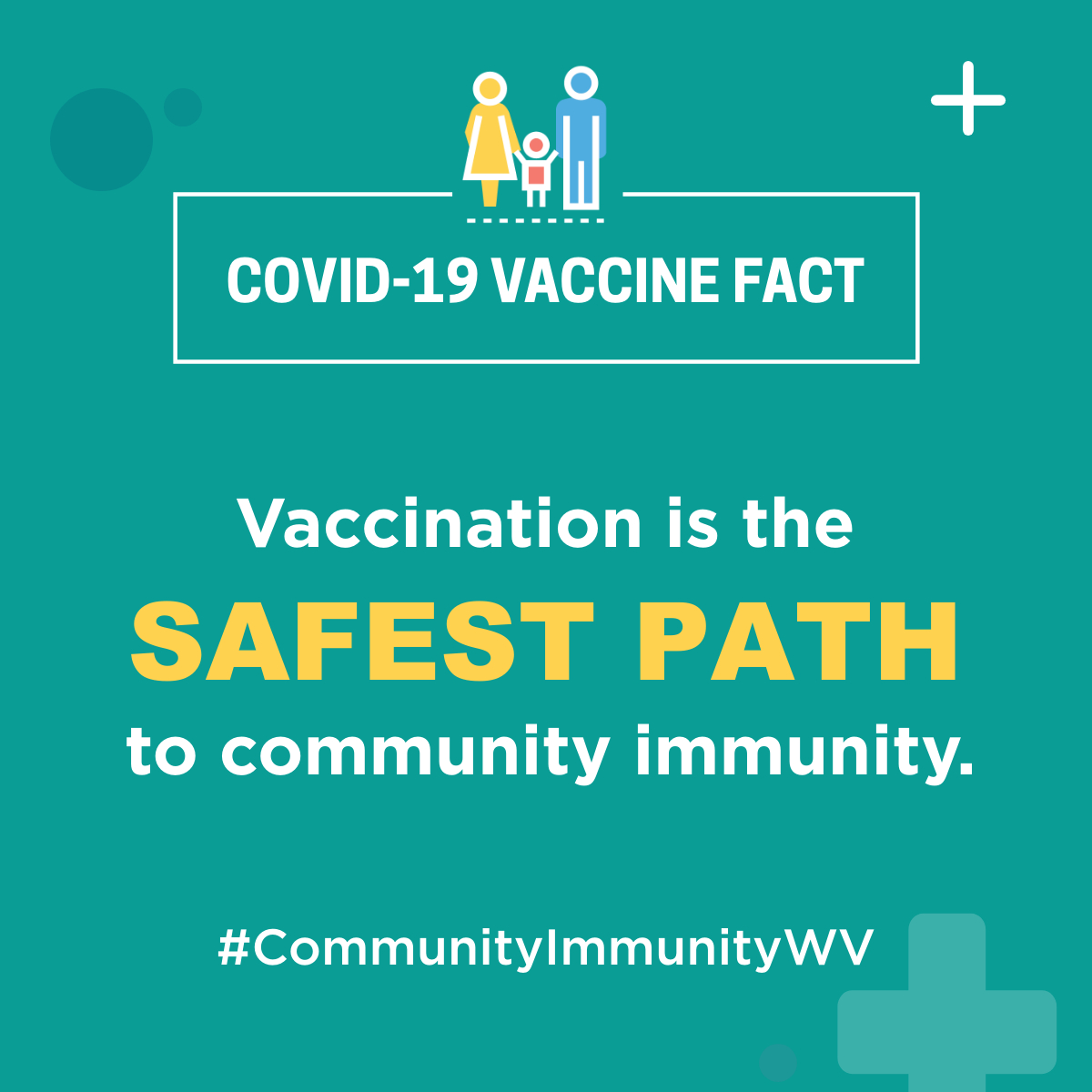 Now scheduling third dose COVID vaccines for the immunocompromised. Click here for details or visit https://www.cdc.gov/coronavirus/2019ncov/vaccines/recommendations/immuno.html
for eligibility criteria.

- - - -

COVID-19 Public Education Campaign
https://wecandothis.hhs.gov/

- - - -

Key Things to Know About COVID-19 Vaccines
https://www.cdc.gov/coronavirus/2019-ncov/vaccines/keythingstoknow.html?s_cid=10493:covid%20vaccine:sem.ga:p:RG:GM:gen:PTN:FY21

- - - -

**REVISED May 10, 2021** FACT SHEET FOR RECIPIENTS AND CAREGIVERS EMERGENCY USE AUTHORIZATION (EUA) OF THE PFIZER-BIONTECH COVID-19 VACCINE TO PREVENT CORONAVIRUS DISEASE 2019 (COVID-19) IN INDIVIDUALS 12 YEARS OF AGE AND OLDER https://www.fda.gov/media/144414/download

- - - -

COVID-19 Vaccine for Preteens and Teens Fact Sheet
https://www.cdc.gov/coronavirus/2019-ncov/downloads/vaccines/toolkits/COVID-19-Vaccine-for-Preteens_Teens-508.pdf

- - - -

*REVISED April 23, 2021** FACT SHEET FOR RECIPIENTS AND CAREGIVERS EMERGENCY USE AUTHORIZATION (EUA) OF THE JANSSEN COVID-19 VACCINE TO PREVENT CORONAVIRUS DISEASE 2019 (COVID-19) IN INDIVIDUALS 18 YEARS OF AGE AND OLDER

https://www.janssenlabels.com/emergency-use-authorization/Janssen+COVID-19+Vaccine-Recipient-fact-sheet.pdf


- - - -

Updated Janssen COVID-19 Vaccine Frequently Asked Questions
https://www.fda.gov/emergency-preparedness-and-response/mcm-legal-regulatory-and-policy-framework/janssen-covid-19-vaccine-frequently-asked-questions?utm_medium=email&utm_source=govdelivery

- - - -

FEMA has announced a Funeral Assistance Program to provide financial assistance for COVID-19 related funeral expenses incurred after January 20, 2020.
https://www.fema.gov/disasters/coronavirus/economic/funeral-assistance?fbclid=IwAR2Tiwd5tLqK_NRhBbyJVItt8qj6KZ2kVyNln4CdT-oaqGBQ0OwlvxuiVNU

- - - -

Announcement by WV Governor Jim Justice to pause Johnson & Johnson vaccine administration in accordance with CDC and FDA recommendations.
https://governor.wv.gov/News/press-releases/2021/Pages/Gov.-Justice-In-accordance-with-CDC-and-FDA,-all-Johnson-&-Johnson-vaccine-administration-paused-in-West-Virginia.aspx?fbclid=IwAR0KstkmwzBqO1_5nMJ2DAxQJ_aDq8kuozMfs0Z3Xfj3WbzDoLumdC_t3Qk

- - - -

Frequently Asked Questions About COVID-19 Vaccination for Teens
https://media.thesocialpresskit.com/the-center-for-rural-health-development-inc/FAQsCOVID19VacTeensFinal4.8.21.pdf

- - - -

We are now offering COVID-19 vaccines to SCH patients following current WV State eligibility guidelines. Call 304.263.4999 to schedule or for more information click here.

- - - -

FACT SHEET FOR RECIPIENTS AND CAREGIVERS EMERGENCY USE AUTHORIZATION (EUA) OF THE JANSSEN COVID-19 VACCINE TO PREVENT CORONAVIRUS DISEASE 2019 (COVID-19) IN INDIVIDUALS 18 YEARS OF AGE AND OLDER

https://www.janssenlabels.com/emergency-use-authorization/Janssen+COVID-19+Vaccine-Recipient-fact-sheet.pdf

- - - -

WV
COVID-19 Vaccine
Registration System Frequently Asked Questions (FAQs)
https://media.thesocialpresskit.com/the-center-for-rural-health-development-inc/WVCOVID19VaccineRegistrationSystemFAQsfinal.pdf
- - - -

WV COVID-19 Vaccine Registration System How To
https://media.thesocialpresskit.com/the-center-for-rural-health-development-inc/WVCOVID19VaccineRegistrationSystemHowTofinal.pdf
- - - -

Virginia Governor Northam Unveils Statewide COVID-19 Vaccine Pre-Registration System. Virginians can use vaccinate.virginia.gov or call 877-VAX-IN-VA to pre-register for the vaccine and get clear, updated information.
- - - -

CDC releases COVID-19 Fact Sheet
https://www.cdc.gov/coronavirus/2019-ncov/downloads/vaccines/facts-covid-vaccines-english-508.pdf

- - - -

WVDHHR releases updated Frequently Asked Questions on COVID-19 Vaccines
https://dhhr.wv.gov/COVID-19/Pages/Vaccine.aspx#faq

- - - -

West Virginians can now pre-register for the COVID-19 vaccine on vaccinate.wv.gov.
This system will allow West Virginians to:
- Pre-register
- Opt to receive regular updates on West Virginia's vaccination process.
- Select communication preferences: text, email or voicemail over regular phone lines.
- Receive real-time updates on vaccine availability
- Schedule an appointment to get vaccinated, once supplies allow.
West Virginians who cannot go online can call the COVID-19 Vaccine Info Line: (833) 734-0965 for help with pre-registration.
** The call center is active from Monday-Friday 8 a.m. to 6 p.m., and Saturday 9 a.m. to 5 p.m.
The W.Va. Department of Health and Human Resources (DHHR) is launching this new service.
West Virginia is the first state to deploy this new system through Everbridge, a global provider of critical event management technologies.
- - - - -

Attention Virginia Residents—from Valley Health. In an effort to make vaccine registration more accessible and predictable, we will post registration links to valleyhealthlink.com/c19vaccinations every weekday at 12pm (noon).
If new appointments are not available, we will communicate that message on our website and social media at 12 noon. We hope that this change will be helpful to those age 65 years and older and select essential workers in Phase 1b who have yet to receive dose one of the COVID-19 vaccine.
If you have already received your first dose through a Valley Health clinic, please check your email for a private registration link to register for dose two. If you do not have an email address, you will receive a call to schedule your second appointment.

- - - - -
Stay up to date on #COVID19:
WV COVID-19 website: http://coronavirus.wv.gov
WV 24/7 COVID-19 hotline: 1-800-887-4304
WV COVID-19 vaccine info line: 1-833-734-0965
WV Free COVID-19 testing: https://dhhr.wv.gov/COVID-19/pages/testing.aspx

- - - - -
America's Health Centers Moving Ahead To Protect The Nation's Most Vulnerable Against COVID 19 https://www.nachc.org/americas-health-centers-moving-ahead-to-protect-the-nations-most-vulnerable-against-covid-19/
- - - - -
SCH is a member of the WV Primary Care Association and supports this communication recommending the COVID vaccine as an effective measure in preventing the spread of the virus. http://www.wvafp.org/.../open-letter-to-west-virginians.../
- - - - -
This link provides answers to some commonly asked questions surrounding the basics of the COVID-19 vaccine(s). https://dhhr.wv.gov/COVID-19/Pages/Vaccine.aspx
- - - - -
Your best protection from COVID-19 will be a combination of getting a COVID-19 vaccine, wearing a mask, staying at least 6 feet away from others, avoiding crowds, and washing your hands often. No one tool alone is going to stop the pandemic. Learn about the benefits of COVID-19 vaccination so you'll be ready when a vaccine is recommended: https://www.cdc.gov/.../about-vaccines/vaccine-benefits.html
- - - - -
FACT SHEET FOR RECIPIENTS AND CAREGIVERS EMERGENCY USE AUTHORIZATION (EUA) OF THE PFIZER-BIONTECH COVID-19 VACCINE TO PREVENT CORONAVIRUS DISEASE 2019 (COVID-19) IN INDIVIDUALS 16 YEARS OF AGE AND OLDER
https://www.fda.gov/media/144414/download
- - - - -
FACT SHEET FOR RECIPIENTS AND CAREGIVERS EMERGENCY USE AUTHORIZATION (EUA) OF THE MODERNA COVID-19 VACCINE TO PREVENT CORONAVIRUS DISEASE 2019 (COVID-19) IN INDIVIDUALS 18 YEARS OF AGE AND OLDER
https://www.fda.gov/media/144638/download